Texas Motor Speedway gets a lot of press and that's just the way track president Eddie Gossage likes it.
As NASCAR fans know, TMS is not known for epic races or fascinating racing, but people cannot stop tuning in to see what Gossage and his team have in store for the crowds and home viewers who tune in to watch.
The track is a 1.5 mile "cookie cutter" track. Gossage balks at that term stating every track has a different characteristic, even the slew of 1.5 milers his TMS falls under.
What Gossage does is what he learned from legendary track promoter Humpy Wheeler – sell the event.
Racing is not what is being hawked at TMS, entertainment is.
It's a simple concept and one that other race and track promoters should study.
In today's economy and with slumping ratings, NASCAR races need to be spectacular!
Part circus, part amusement park, part rock concert (or Country) and, yeah, part NASCAR is what fans are clamoring for and will leave home in droves to take part.
Prices should be feasible to families and the entertainment so awe-inducing that nobody would want to miss it.
And it appears nobody does want to miss the race.
The temporary community that springs up for NASCAR races is expected to reach 200,000 by Sunday's race at TMS. It is the largest-attended, single-day sporting event held annually in Texas.
Of course, NASCAR brings in a ton of fans, but in Texas, it's more than that.
This year Duck Commander, the brand of the best-selling duck calls and name of the lucrative family-owned company led by the Robertson clan of A&E's "Duck Dynasty" fame, is sponsoring the spring race at TMS. It is a multi-year deal aligning the popular "Duck Dynasty" group with NASCAR and TMS.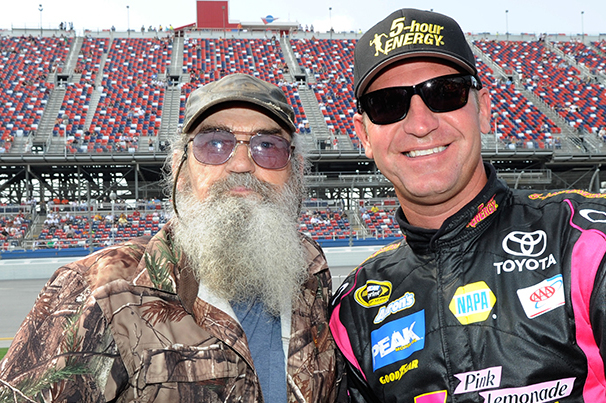 This deal is, in a word, brilliant.
Eddie Gossage wins again.
At a time when tracks are struggling to fill seats and ratings are dipping, Gossage brings the crowds in by the gross.
And the Robertson Family isn't even the biggest draw, although they are important.
"Big Hoss", the world's largest high-definition big screen television, is debuting during this weekend's races.
Gossage even has the people from The Guinness Book of World Records attending the race on Sunday for the Duck Commander 500 to measure and certify that Big Hoss is the biggest screen on the planet, 220 feet wide and roughly 100 feet tall.
Who doesn't love a new world record?
And lucky Gossage has a perfect storm brewing.
Dale Earnhardt Jr. is the current points leader coming into TMS.  He has the most dedicated and passionate fans in the sport who call themselves Junior Nation.
Earnhardt Jr.'s first win came at TMS and, with the way his season is going, many feel he may win there again on Sunday.
With the depth of competition in NASCAR this season, Earnhardt Jr. has a lot of drivers to beat to do that, but anything is possible in the field.
One thing's for sure, TMS is the place to be this weekend!